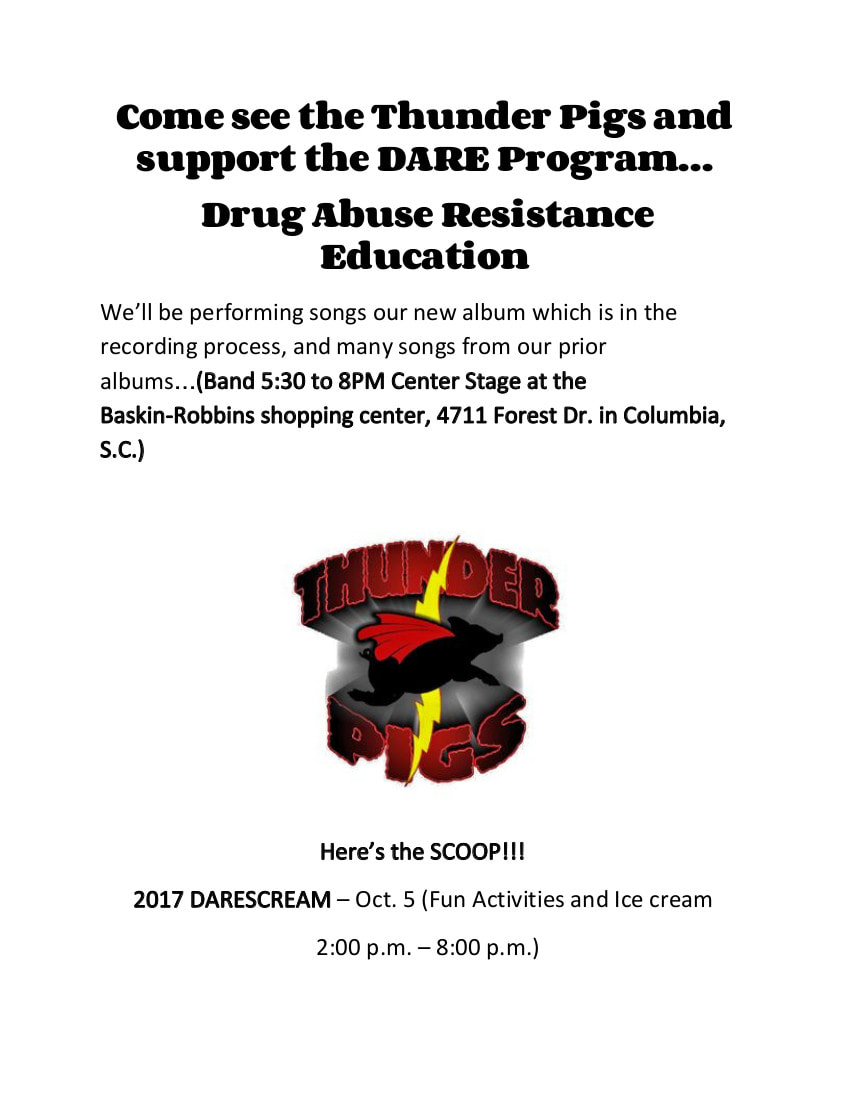 The Thunder Pigstm - UPCOMING EVENTS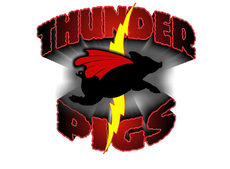 COMING UP!
​
Past Events
Rock the Plaza, Saturday, July 30
LaBrasca's
restaurant and the
Cross Hill Neighborhood Association
Join forces to
"BEAT Back the Flood".
​
Event Location: LaBrasca's 4365 Jackson Blvd, Columbia, S.C. 29207
Proceeds will go to help victims of the infamous 2015 midlands flood. This neighborhood was one of the hardest hit and is in the low lying area of Gills Greek. LaBrasca's also celebrates 50 years of serving the community….Bring a lawn chair, grab a pizza and beverage and enjoy the show…
Live Performances are free throughout the day evening,
Featured Entertainers: (estimated times shown)
***Nashville recording artist
Brandon Bailey,
closes out the evening with his extraordinary blend of country and southern rock. He has performed at the world renowned House of Blues and Hard Rock Café, and performed from Nashville to Florida. 7:15 PM
***Original recording artists and rock band, the
"
Thunder Pigs
",
with their Wicked Cool Records hit release "Everytime", will perform original rock 'n roll from their albums and upcoming releases.
The "Pigs" are back, producing their third album after their studio was wiped out by the flood of 2015. 6 PM
*** From Greenville South Carolina, upstate favorite son, musician
Kebin Ahrens
will provide his unique style and engaging music. 4:45 PM
***Renowned Sumter SC band "
Bad Water
" will rock the show with your favorite cover music. 3:30PM
The lovely and talented Genya Raven, host of "Goldies Garage" will once again be playing The Thunder Pigs on future shows. Tune in to XM 21 Little Steven's Underground Garage.
New Interview by Harvey Kubernik
The Thunder Pigs were thrilled to once again be interviewed by LA music journalist Harvey Kubernik following the release of our second CD, Porcine Conspiracy. Kubernik's most recent book, Turn Up the Radio!: : Rock, Pop, and Roll in Los Angeles 1956-1972, is a big hit and is receiving rave reviews, and was recently placed in the Rock and Roll Hall of Fame Music Library. The new interview is posted.
December 2014, We closed the year with a BANG by being selected as one of 15 bands appearing on Volume 1 of Little Steven's Underground Garage Presents "Goldies Garage - Best Unsigned Bands." We were "hand picked" by the lovely Genya Raven, host of the show and Little Steven himself!! We hope this happens "Everytime"!!!!!
July 7 and 28, 2014, The Thunder Pigs song Everytime was played on LA FM station KROQ on July 7th and again on July 28th. KROQ DJ Rodney Bingenheimer, Rodney on the Roq show, says he loves the band.
July 10 and 26, 2014
, The Thunder Pigs were featured on Larry Battson's Wild World Online Radio - Blog Talk Show on the 10th - http://www.blogtalkradio.com/larry-battson. Larry was an awesome host. A number of songs from both Thunder Pigs I and The Porcine Conspiracy were played, and a great time was had by all. You can listen to a replay of the show here: http://www.blogtalkradio.com/larry-battson/2014/07/11/the-thunderpigs-visit-larry-battsons-wild-world. Battson also played several Pigs songs in a followup show on July 26th, talking about the band with Frank Fusco as co-host.

June 20, 2014 Friday

, at midnight eastern time we're back on satellite radio channel XM 21 on the Genya Raven show. Genya Ravan hosts "Goldie's Garage" and she services your Rock 'n' Roll needs. "Featured are the best unsigned 'Garage Rock' bands from around the world. Tune in and tune up! (1 hr)"Saturday April 20, 2014 from 2pm to 5pm

...we'll be rockin' at the

Baskin-Robbins

shopping center 4711 Forest Drive, in Forest Acres at the day long Family Festival........with ICE CREAM only 31 cents a scoop...have a "Cone for a Cure" The "Pigs" will be performing songs from our new, soon to be released CD , and songs from our current CD..... PS: bring a lawn chair and "set a spell" (non-southerners, that means sit for a while and relax) Please share this with your friends so they can join the fun and help fight leukemia-lymphoma...(like the cowbell, you can't do too much forwarding) ...Thunder Pig items will be for sale...with proceeds going to the Leukemia & Lymphoma Society ....It's an all day event sponsored by Baskin Robbins, Pizza Hut, Richland County Sheriff's Department, City of Forest Acres, Shandonwood Animal Clinic, Bruegger's Bagels...and you too can be a sponsor (get information at http://conesforacure.eventbrite.com ) ...Enter you and your pet (dog) in the cutest, ugliest, loudest, or look-a-like contest (for us humans it's just the look-a-like thing) ...Runners can join in on the 5k run or walk in the morning and join the Family Festival all day...there will be Fire Trucks, a bounce house, a dunking booth, door prizes, dog walk and more fun games and prizes.
June 2 Saturday @ 9:00PM . . . we'll be giggin' at the
New Brookland Tavern,
122 State Street, W. Columbia.
We'll be performing new unreleased songs and songs from our current CD Thunder Pigs I.
Tickets are $10 at the door. If you send an email to Frank@thethunderpigs.com or ThunderPigs@thethunderpigs.com for advance purchase, we will throw in a copy of the Thunder PIgs I CD

or

a FREE copy of our next release coming this summer. Regardless, if you buy a ticket at the door save your stub and we'll give you $5 off either CD or a T-Shirt for each ticket stub.
Get there early to catch our show from 9:00 to 10:00 and then stay to hear "Brother Esau," a well-known band from NC, playing the night away with their amazing Greatful Dead swagger.
June, 3rd Friday, at midnight eastern time we're back on satellite radio channel XM 21 on the Genya Raven show
.
Genya Ravan hosts "Goldie's Garage" and she services your Rock 'n' Roll needs. "Featured are the best unsigned 'Garage Rock' bands from around the world. Tune in and tune up! (1 hr)"
May 3 Are you or any of your friends or relatives interested in getting an MPA? We're rockin' the Clemson MPA Program Reception from 4:30 pm to 7 pm on Thursday May 3 at IT-oLogy, 1301 Gervais Street on the first floor, in Columbia, (we'll be teaching you pig-onometry 411, sorry it's 0 credits). Sponsored by the Clemson MPA program and the SC Radio Network.
RSVP:
803-790-4307
or
kmedwick@learfield.com
.
May 17 Help the Leukemia Society sponsored by the Baskin and Robbins on Forest Drive in Columbia. Join us Pigs at the Baskin and Robbins Shopping Center 2711 Forest Drive for a "fun" raiser...we'll be performing from 6:30 to 8:30 pm or until you drop?? Come join Baskin Robbins and our good friends CURTIS WILSON (WLTX), BRIAN MCCONCHIE (WACH Fox), TYLER RYAN (WACH Fox), MARY KING (WIS), JODI PAGE (B106.7 FM), KELLY NASH (WCOS), TEDDY HEFFNER (560 The Team Sports Radio), ARIELLE RIPOSTA (RCSD), TODD DAVIS (Bethel United Methodist), JEFF SMITH (Eastminster Presbyterian) and more for a special $1 per scoop fundraiser to benefit the Leukemia Society! Relay race competitions and more. May 18 At midnight eastern time it's satellite radio time again for the PIGS....Channel 21 XM on the Genya Raven Show... we never know which of our songs she will pick....but she says she's got another one... Did you know that Genya was a key person in breaking the "glass ceiling " for female rock/bluesy vocalists? Check her out!!
---