Harvey Kubernik Interviews The Thunder Pigs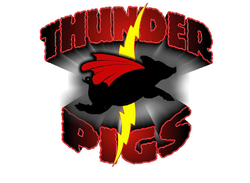 Harvey Kubernik is a Los Angeles native and a Southern California resident. Kubernik has been an active music journalist since 1972, and a record producer since 1979. He is a former West Coast Director of A&R for MCA Records. While at the label he suggested the pairing of engineer turned producer, Jimmy Iovine, to helm Tom Petty's debut album for the company and also instrumental in the signing of John Hiatt to MCA.

In 1976-1981 Kubernik provided studio session percussion efforts for producer Kim Fowley for his album production of the Runaways, and later for producer Phil Spector on his recordings and albums from Leonard Cohen, the Paley Brothers, and the Ramones. Kubernik subsequently produced over fifty spoken word, poetry and music albums in the last twenty five years.
Harvey Kubernik's writings have been published nationally and internationally over the last third of a century in Melody Maker, The Los Angeles Free Press, Crawdaddy!, Musician, Record Collector, Goldmine, MIX, The Los Angeles Times, MOJO, Discoveries, UNCUT, Music Life, Classic Rock, HITS, and Record Collector News.
Kubernik's hardcover 384-page book, "Canyon Of Dreams," his history on the Laurel Canyon musical legacy, is published by Sterling/Barnes & Noble on October 2, 2009. The volume incorporates over 350 rare and unseen music-related visuals and artifacts and spotlights over 200 Henry Diltz photos. Doors' Ray Manzarek has penned the book's introduction and Lou Adler wrote the Afterword to Kubernik's endeavor. Kubernik's second book, "A Perfect Haze," was released in November and is receiving rave reviews.
The Thunder Pigs were thrilled to be interviewed by Harvey in late September, 2011. In Harvey's own words, "Man, what a collective group interview! Potent."
---
The Interview, Part 1
(Part 2 posted immediately after Part 1. Check it out for a discussion of our most recent CD!)
1.
Harvey:
How did the band get the name?
Frank:
The band started out as a trio. The three of us would propose name ideas while eating pizza and having drinks before rehearsals. As I recall Dave and Larry would propose the most "gawd-awful" (southernese) ideas and I lived in fear of being out voted 2 to 1 and ending up with, to clean it up, the wrong name. We also considered some names that were current and topical for the immediate time. These of course faded away over subsequent weeks. So here's the truth. Two good friends suggested name ideas, and one referred to her dog as a "love pig". So I brought this idea to Dave and Larry, who take great pride in changing anything I propose. But this time they got hooked on the words we kept tossing around substitute words and like rolling the dice Larry threw out the word "Thunder"...Thunder Pigs, and it felt perfect to all of us. It was timeless, not too serious, and felt musical....."
Larry:
Originally, the band adopted the name of "Idle Americans" and went for the industrial 50's Soviet look in our prospective artwork. Were thinking of going heavily into contemporary social commentary – but, as fate would have it, we had a pile of pretty good "love" songs and more humorous social songs, that really seemed to work better. At that point, we decided we needed a name that stood out from the crowd. I think Frank started the "pig" talk and many iterations and logos later, the Thunder Pigs came together as a name. I think the crowning achievement was when Frank handed rubber pig snouts out to Dave and me, and we were able to perform wearing them. It was a scene right out of a famous Twilight Zone episode.
Dave:
We threw around a number of names at first, having a "favorite of the week" that we'd try on like a pair of shoes.

One practice Frank mentioned that he had heard of a band called The Love Pigs.

We all liked the sound of it.

I believe it was Larry who said: "We aren't Love Pigs.

We are Thunder Pigs.'

It stuck.

2.
Harvey:
How long has the band been formed and the time line before Mike Angel joined.

HK:

What happened when the band went from a trio to a quartet?
Larry
:

Frank and I have played off and on together in various bands for over 20 years.

Over those years, I have bounced from playing bass, to guitar to drums (my favorite instrument). About a year and a half ago (2009-ish) after the demise of our long standing cover and original band, the Rock Salvage Company, Frank and I got together one day and started talking about taking the music to another level. We knew that this could only be done with solid original music.

Frank had been penning originals for years but this was the time to really bring the good stuff out and polish it up.

We carefully chose the best bass player we knew, Dave.

Dave also has a wicked sense of humor and sings spot-on harmony.

We deliberately kept the band a trio, and tried to build on a simple effective foundation, rather than layer upon layer of noise, as is the case when most bands start out.

We have all been in situations where the songs, and song-writing, go out the window as the volume knobs get turned higher and higher and we're trying to avoid that situation.

We had most of the songs from our first album in the can when I shared a few with Mike.

Mike had been doing recording and production work for another band I was drumming for in my spare time, the Main Street Connection.

Mike offered some creative ideas and added some licks to the original songs.

I felt like Mike would "click" with the other band members and had a lot to offer.

Also, there seemed to be some holes in our sound

- basically, some of the songs needed the spark that only could be accomplished by adding a kindren spirit to the band.

It only took a couple of sessions for it to be clear that Mike had both the chops and sense of humor to fill that void.
Dave: We formed around October 2010. I had played a gig as a stand in bassist for a cover band Larry and Frank were in. When the idea came to try to work on some of Frank's songs they called me. From Oct. until the following spring, we worked up several of Frank's tunes, I wrote "Hog Wild," and we began laying tracks. As we did that we thought it would be good to add some keyboards and have someone take a look at Frank's rough mixes. Larry knew Mike from another band, so we invited him to work with us in May 2011. That quickly evolved into band membership. Mike was a great fit in terms of both personality and musicianship. The band now has two rather distinct "voices" in terms of solo playing, and the overall sound of the band is beefier. Mike's fill passages are an important part of the T-Pigs musical identity.
Mike:
I joined the band in May of 2011.

When I joined the band Frank was playing rhythm and lead guitar.

Frank's a very good guitar player so he was able to handle this with no problem.

But when I joined the band it created many more possibilities musically because all of a sudden Larry and Dave didn't have to worry so much about holding down the rhythm during solos, they had more freedom to explore and even leave the beat because there was another rhythm instrument, either Frank or I playing rhythm guitar or me playing organ or piano.

It just gave us more room to spread out and breathe.

This doesn't show up as much on the first CD because all but one of those songs were already written and being played by the band before I showed up, and we only made slight changes to the recorded arrangements.

The song "Loveless Pit Called hell" is the exception though.

That song was written and performed for the first time with me in the group and you can hear the difference on the CD.

I play mostly rhythm guitar on that song adding riffs during the verses, and because I'm playing rhythm during Fran's solo, he has a chance to really stretch out and he produced this incredible wah-wah lead sound.

I play a harmony lead part at the end of Frank's solo.

The sound of this track is the sound of the quartet whereas something like "Oh Baby!" is closer to the sound of the trio.
3.
Harvey:
Why are each of you playing music, and in the case of Frank, writing songs?
Frank Fusco:
I guess everyone needs an outlet to express their thoughts, somehow I got in to writing songs in college around 1969. My roommate and I played guitar and he was willing to venture into some original songs with me. I started out in visual arts but that wasn't really my thing. In song writing I feel I can create more than a picture. Music is an art form that touches on more of the senses and emotions that I'm trying to convey and when you read a book the images are only limited by your imagination. So, when both words and music are combined the imagination has an unlimited resource to enjoy and each person can take the experience wherever it leads them. I think it is this element that drives me to write lyrics and music....it just feels like a broader pallet.
Larry:
I have no choice – I'm the person who's fingers are moving when there is no sound in the room.

There are always beats, rhythms and rhymes going through my head.

Some people quote the wisdom of the Bible or Benjamin Franklin – I quote Bruce Springsteen, Tonio K., James Brown and John Lennon. Music is not just a side show in my life, it has always been a main attraction.

I am lucky to have just enough talent and a whole lot of tenacity in order to keep a beat and, hopefully, learn a new lick or two. In fact, about five years ago I went to a drum clinic put on by the great Steve Gadd.

In 2 hours I was given about 10 years worth of "home work" assignments – so many tips and tricks to use – But the bottom line for me is that it is just so much fun.

Also, I am the only one willing to carry around all the equipment that goes along with drumming!
Dave: I've played music and sang almost my entire life.

I played my first gig as a bassist at aged 12 though I actually played piano for a year or two before that.

Through high school I sang in 3 choirs, played bass with the school's pop ensembles, and also played in 3 or 4 bands.

I even took a theory course from Berklee by mail.
In college I played in a band that worked locally on weekends, and went out on the road over summers.

I also worked as a session bassist for a small studio in my hometown.

I used to jokingly say: "almost every low end gospel record recorded in the Augusta area between 1980 and 1984 likely had one of my bass lines on it."

Probably an overstatement, but there were a lot of church gospel sessions.

For a period, while I was in grad school and during my first career as a Professor, I played sporadically, but I continued to play.

When I moved back to SC in 1997 I fell in with some long time musician friends and played in a series of local "bar bands".

In fact I'm still in one of those now in addition to the Thunder Pigs.
I could not imagine my life without creating and playing music.

I'd play alone if I had to, but the creativity and camaraderie of a band is where I'm happiest.

The whole is definitely more than the sum of its parts.

The Thunder Pigs is a kind of culmination for me.

After all these years, I'm in a band of like-minded musicians committed 100% to creating and playing our own material.
Mike:
I'm miserable when I'm not playing music.

My wife will tell you that.

I need the creative outlet of creating music and songs with a band.

Playing guitar isn't enough and even writing my own songs and recording them isn't enough.
I first picked up the guitar in 12th grade and formed my first band that same year.

A little trio playing Grand Funk Railroad and Black Sabbath.

"Inside Looking Out" was the first lead guitar part I ever learned.

Soon we started playing original material.

I started college right after high school but promptly dropped out to go on the road with a band.

Ten years later I was still on the road, doing covers.

We did some pretty good gigs, opening big shows for bands like The Spinners and Brownsville Station, who were very big at that time.

I got tired of it though, and the lifestyle, too much alcohol and drugs and people dying around me from over doses.

We were also constantly getting ripped off by booking agents, club owners and even our own manager.

We had the same manager as B.J. Thomas for a while, Dale Perry, and he was always sending us to play one-night stands for very little money.
There is something special about writing and arranging words and music with other band members, a synergy, that inspires each of us to create something that is better than any one of us would be able to do alone.

Just as important is having someone around who isn't afraid to say "that sucks".

Constructive criticism is more important in the long run than praise and it's almost impossible to criticize your own work.

Working alone I find it very difficult to write songs.

But working with the band and with good song writers like Frank and Dave, they inspire me to add guitar or organ parts that are melodic or catchy, raising the overall level of the end result.

With this band I rarely go for a flashy guitar part.

I would rather add something melodic in response to the melody of the song.

My first major musical influence was The Beatles, and I was always impressed with how they always found just the right guitar riff to bring the song up to a whole other level.

I would rather play like Lennon or Harrison any day than be able to play blindingly fast like
Ritchie Blackmore of
Deep Purple or Alvin Lee, and I can play fast when I want,

I would just rather play well.

Frank's a master of this.

Listen to his lead parts. They are not usually flashy, just perfect for the song with not a single unnecessary note.

And Dave is such a melodic bass player and sings pitch-perfect vocals, it all works well together.
4.
Harvey:
I have asked Mike about the relationship between science, math and music.
Mike:
I've thought a lot over the years about how science and music are related and I've even written about it.
There are many different ways that science and music are related.

For example, a large fraction of scientists and mathematicians are also accomplished musicians.

Einstein was an excellent violinist.

There are also purely mathematical relationships.

A computer can be programmed to compose a baroque style of music that is very convincing, though maybe not Bach and no computer has yet composed a song that has the soul of Jim Morrison, because musical intervals and rhythms are very precise and are easy to describe mathematically.

But there are also much deeper relationships.
Brian Wilson sang "good vibrations." Not only is this phrase a succinct and accurate description of what music is, it might also be used to describe the Universe as it is currently understood by Physics.
The analogy between music and the movements of heavenly bodies is an early model that attempted to explain the movements of the planets, at the furthest reaches of the then known universe.

Though a crude model it still lead to
Kepler's third law of planetary motion
which is, with some refinements, still used today to predict the orbits of everything in space from planets to space junk.

In more modern times another model of the universe, our current best model of matter at the atomic scale, is Quantum Mechanics and it is based in a very fundamental way on harmonics and dissonance.
The mathematical models (e.g., equations) that describe musical notes, octaves and harmonic intervals are the same models that are used to describe the movements of electrons in atomic orbitals, which is the major success of quantum mechanics.

In fact any musician who understands how certain notes resonate when a certain guitar string is fretted and plucked, while others are not heard, would have no problem understanding the concepts of quantum mechanics.

And the laws that govern music go even deeper than quantum mechanics, into the theory of "everything."
Albert Einstein attempted, but failed, to develop a theory that would explain the entire universe, quantum mechanics only explains the universe at the atomic scale, to be called the Unified Field Theory.

In recent years there has been a resurgence of unified field theories and one of them, String Theory, is believed to hold the potential for describing the entire Universe, at all spatial scales.

For this reason, String Theory is often referred to as "The Mother of all Theories."

And in String Theory the most basic building blocks of all matter, the subatomic particles that make up all matter, quarks, electrons and neutrinos, are made up of tiny vibrating strings, whose vibrations give rise to all the particles in the universe.

For example, in String Theory an electron can be a string vibrating in one pattern, call it a middle C for a musical analogy, a quark can be a string vibrating in a different pattern, call it an "A".

The difference between one particle and another is simply the note that its string is playing.

Remember, physicists are quite serious about this.

Every particle in the Universe can be reduced to the notes these fundamental strings are playing.

The universe may quite literally be the ultimate "song."
4.
Harvey:
I

Would like to ask Frank and Larry how their professional careers informed their music or allowed them to do music. Frank, if there is any link between his professional life and music, and Larry as diving instructor how that might influence his drum playing.
Frank:
My experience includes a two year tour of duty in the US Army and thirty-seven years in professional positions with state government in auditing, management, budgeting, service delivery and accountability...all those seemingly rigid core functions of any complex organization. What this means is I've seen thousands of people and their relationships from up close and far away. I've lived through many of those experiences with them. We shared successes, failures, food, drink, sports, humor, first born babies, pet stories and losses...you name it. There is no doubt that the concept of the "work family" is real. The thing about leadership is...it's about people. All the machinery and technology doesn't really matter except for what people do with it. I like people and simply wanted to treat people as I would like to be treated if I were in their situation. I feel it is all those situations that give me a broad perspective and set my foundation for writing music.
Larry:
Like Frank, I began working for the government in the 1970s and feel like the things we did for the first 15-20 years were to the benefit of individuals.

The last 15 years it has been more and more about money, politics and corporations.

I think if you are really lucky in a job, once, maybe twice a month, you can make a positive difference in a person's life.

That's what made it worth it to go in to work each day and fight the inertia of the "crowd".

That you could help someone who really could not help himself.

Now that I am "retired" from government, I get to be selective and do what I love, which is to dive, teach diving and play music. In it's own way, scuba diving is as important to me as music.

Diving itself gives me the serenity and power of the ocean.

I get to see all the things most people just watch on TV.

It's a privilege to experience the wonders of the deep and even more of one to share it with others.

I do that by teaching diving and pursuing my underwater photography hobby. The same feelings cross over to music.

I love the look on a new student's face when they realize they can breath underwater or be "weightless".

In the same way, I love the reaction of the audience to a song that "comes together" or a performance that makes them shake their head "yes!".

So, yes, my drumming and diving share the same roots and "tickle the same fancy" in my brain.

They are in that sweet spot where hard work, creativity and fun intersect.

And, finally, the water and the ocean have their own distinct rhythms – and those translate into my playing.

It's hard to describe but always just below the surface.
5.
Harvey:
There was a mindset in the media and radio and music periodicals over the decades about Southern rock, which has really diminished a lot owing to MTV, Hootie, REM to a way lesser degree. And you are a pop band that is ten times more Beatles and Neil Young than Lynyrd Skynyrd or anything on the Capricorn Records label. Nor do I hear any specific regional references in the lyrics to ACC or anything Southern. It's pop music created by a band based in South Carolina. But is there anything, either in music, lyrics or environment that can be acknowledged as South Carolina-influences on the band or process? OR is there something about South Carolina that lends itself to music-making?
Larry:
I think that originally the consummate "Southern" rock bands, Allman Brothers, Marshall Tucker Band, 38 Special, Lynyrd Skynyrd, etc, were known for being "rednecks" with guitars who basically kicked ass and drank heavily (we'll leave the drugs out of it for now).

"Smart" Southern bands, such as REM appealed to the college crowd, and the two had distinctively different audiences.

Music and the country have become a good bit more homogeneous these days.

Hootie and the Blowfish are from Columbia, SC, but I could tell you they are from Columbus, Ohio and you would probably think I was telling the truth, if you didn't know better.

South Carolina is still struggling with it's past and doesn't really have a clear idea of it's future.

So, in a way, it's just like most people. Unfortunately, SC also has a bit of an inferiority complex cloaked in a gigantic ego.

So you might hear a little of all of that in our songs.
Dave:
There are some overtly southern elements, and some more subtle southern textures to our sound.

The more direct expressions can be found in Whiskey Straight Up and Hog Wild, both of which are in connected to a roadhouse blues and boogie tradition that is very strong in the South.

The more subtle textures can really be found in the specific licks and the prevalence of slide guitar throughout the recording as a kind of "southern seasoning" to the overall pop/classic rock tone of the record.
Mike:
There is not much of what you would call "Southern Rock" in this band.

My main musical influences didn't come from Southern bands.

My earliest influences were bands like The Beatles, The Doors, The Byrds, (all the "The" bands of the middle and late 60s) and Creedence, and later when I started playing music I listened and tried to emulate bands like Led Zeppelin, Jimi Hendrix, Neil Young, Cream, Mountain, Grand Funk Railroad and Black Sabbath, and later Aerosmith and ZZ Top.

I was never much interested in Southern Rock bands like Lynyrd Skynyrd (please never ask me to play "Sweet Home Alabama" or "Freebird") or even The Allman Brothers, though I'm sure their style rubbed off on me to an extent.

I've been told I play lead guitar like Duane Allman even though I was never into their music that much.

As far as that goes I was never much interested in the blues either, the original Southern music, until much later in life.
There is no question that REM and The B52s in our area and Tom Petty and The Heartbreakers changed how people thought about Southern Music and made it cool to play pop songs, as opposed to guitar music, in the South.

And later-on obviously Hootie

took it to a whole other level. REM infuenced me as a song writer, with their sense of humor and the idea that you can sing pop songs with a southern drawl.

We would sometimes cross paths with them in Raleigh before they became superstars but by that time I was pretty much getting out of the band business to go back to college.

And now I've come full circle, re-entering the music "biz" and here's a surprise, all of those old bands are still out there too, and many are still the biggest names in the music business.
It's easy to be an all-original band in central South Carolina.

Columbia and Charleston have always embraced original music and there are quite a few venues where original bands can find an audience locally.

That's not to say an all-original band made up of "elder gents" like us is finding it easy.

We're on unfamiliar territory here and our CD just came out so we really won't know for a year or so how our band will be received.
6.
Harvey:
Can Frank shed some observations about some of the songs since they are for the most part his, especially the lyrics.
Frank:
Observations about song lyrics....I'm hoping that listeners will actually hear the lyrics and relate them to their experiences, and make their own interpretations whenever they choose to. The themes are not too vague (although I hope to put several of my songs on the next few cd's that are very open to interpretation). "Flames" for example says when you're young you can screw up, but, you can also turn out fine...let's give youth a chance or even a second chance. Several songs are what I call issue related. For example, "Sad Day" is about illegal aliens, a subject that is politically charged. But I explore the human side of the issue questioning the false promises, abuse and exploitation of people in great need. Bumble Bees is a satire about how we view our environment. It says if I can make money benefiting the environment I'll do it, otherwise hey let's have a party (by the way the kazoos are to represent the buzzing of the bumble bees, and obviously we don't speak bumble bee so we don't know what they're telling us (this is a tip of the hat to the scientists who do understand and try to inform us). Many of the songs pry into the crevices of love relationships for example with the mournful sound of "I'm Gonna' Miss You", and the very clear point of "Loveless Pit called Hell". I heard Paul McCartney say in an interview that he and John Lennon wrote about love, so I have followed that guidance but looked at the difficult parts of love relationships that I believe we all experience.
7.
Harvey
:
Can Dave discuss "Hog Wild."
Dave:
Hog Wild has an interesting origin.
We had been working on a series of Frank's songs dealing with lost and/or unrequited love.
The day before I wrote Hog Wild, Larry and I had been joking with Frank, using a paraphrase from That Thing You Do: "…no more of that lovers lament crap, we want something peppy, we want something snappy."
The next day I thought to myself, "this band needs to go
hog wild
for a song or two".
The title led to the chorus, and the chorus led naturally to the chords and melody.
When it came time for the verses, the feel (plus as a counterpoint to all the other material about love) kind of naturally led to a lyric that was grittier and more overtly sexual.
8.
Harvey:
Can Mike discuss joining a readymade band, and what it is like adding to a trio.
Mike:
I got tired of playing in bands for a while and spent a couple of years writing and recording my songs, solo.

I wasn't really looking for another band though I did do a little session work now and then and produced a couple of records for friend's bands.

I first heard Frank, Dave, and Larry on a demo CD that Larry gave me.

They were looking for someone to help with the mix.

The first track on their demo CD was "Dark and Blue."

I knew before the first verse was over that this was a band I wanted to be a part of, but the band was pretty sure they wanted to remain a trio.

All the other tracks on their demo were great and I could tell the band was into songs and melody more than other bands around.

This is just what I had been looking for.

"Flames" was on that demo and I mixed it and added a couple of tracks, mainly adding my guitar and a little Hammond B3 organ.

The band loved it.

They said "you passed the audition," and that was it.

I was in.
Once I started playing with the band, it was so natural.

I know what they were trying to do almost immediately.

Also our personalities matched well, there are no egos in the band.

Frank is happy to have me play a solo and I'm happy to let him.

We both trust that the other will do a good job.

Frank is perfectly happy letting someone else in the band sing if it's right for the song.

I haven't known many singer songwriters like this.

It was great too that the band already had more than enough songs written and rehearsed for a CD, so we were able to quickly record all the tracks and produce Thunder Pigs I.

Another great thing about this band is that they encourage me to sing and bring forward my own songs.

I think a quartet with two guitars, bass and drums is the perfect band, like The Beatles or The Doors.

What more do you need?
9.
Harvey:
Since Mike had been on the road many years ago, what has it been like to be a working musician for a decade, rake a detour for academic and professional reasons, and now return to music-making, while all along playing guitar and collecting records.
Mike:
Being a working musician in my twenties was definitely an interesting experience, not necessarily always fun though.

When I started a career in science I missed playing for a year or so and even while working on my Ph.D. I would moonlight on the weekends playing with gigging bands for hire.

I made good money this way.

After I got my Ph.D. though and moved to California, working at Lawrence Livermore National Laboratory, I had no time to play with bands.

I was focused on my career.

But I did listen to what was going on musically, what better place than the West Coast in the 80s, and collected all sorts, not just rock and pop but also jazz and blues.

This is when I developed a real interest in blues and this effected my guitar playing and the songs I was writing.

But I was also listening to Rush, Dire Straits, Springsteen, Van Halen, AC/DC, Queen, Tom Petty, Stevie Ray Vaughn, and so many guitar-based bands.

I used to travel to Los Alamos regularly from Livermore and I'll never forget driving up the mountain with "Manhattan Project" by Rush at full volume in the car.

It gave me chills.

Even though I wasn't playing actively, this music influenced and gave more depth to my playing.

Now that I am playing music again all of these influences are coming out in my guitar style.

For example, I would never have played a Muddy Waters lick in the old days or focused so much on tone as I do now as opposed to playing fast notes.

Another thing this period brought to my current playing style is maturity.

I think "more" about playing "less."

I'm intensely aware that leaving space is as important as filling it.

In my twenties this idea wasn't even on my radar.
10.
Harvey:
Can Mike offer a funny show anecdote, like the Rubber Band story.
Mike:
Being on the road when I was younger was hard work but there were lots of interesting and often funny things that would happen.

One of our biggest shows ever was opening for The Spinners at a coliseum in Asheville, NC.

This was around 1975-76 when that group was one of the biggest in the country.

The way that gig came about was very funny.

The Spinners had many hits during the 70s and one of their last really big hits was "Rubber Band Man."

I was playing with a band at a club in Greensboro, NC where we played regularly.

The club was connected to a hotel near the Greensboro coliseum and acts used to stay there and frequent the club.

It wasn't unusual for somebody like Bob Seeger or
Donnie
Van Zant,
to walk in and have a beer watching us play, or for The Atlanta Rhythm Section to invite us to their room after their show.

So we were visible there.
One night after a set, two men came over to our table and said they would like us to be the opening act for an upcoming Spinners show.

We were thrilled, The Spinners were huge at the time and it crossed our minds that maybe the name of our band had something to do with their offer.

The name of our band was Rubber Band.

The funny thing is, these two men had no idea what the name of the name was.

It had not been announced when they were listening to us.

They asked us "What's the name of your band?"

When one of us said Rubber Band, they really thought we were pulling their leg.

Our band had the name of The Spinners latest hit.

It was just a coincidence.

One of my favorite band memories from that period is at that show, when The Spinners musical arranger, Maurice King, came out on stage and listened to our rehearsal.

That was cool.
There were also lots of funny-scary things that happened on the road.

We played this large club near Hickory, North Carolina, Wayneo's , it must have held 1200 to 1500 people easily.

The club is still there but the name is now Wayneo's Silver Bullet.

It had a large stage and had some pretty good bands.

The club had big-name acts on consecutive nights for some reason.

We were on a two-night show that included Steppenwolf and we were opening on the second night for Brownsville Station, who had a big hit with "Smoking in the Boys Room."

Steppenwolf played the first night.

They were not in their prime but as it turned out one of their songs had just started rising in the charts at that time, I forget which one.

The manager of the club, Wayne, was really nice to us but he was a biker as were many of the clubs patrons.

Thirty minutes before Steppenwolf was supposed to play the band called Wayne into the dressing room.

They demanded $5000 more money because one of their songs was a new hit on the radio.

Wayne told us they did not have a hit when he booked them.

Well "Jim" liked guns and wore a pistol on his belt all the time.

He told us about this incident.

The club was full inside and as many people outside trying to get in.

Wayne left the dressing room, thought about the situation for a couple of minutes.

Then he went back in the dressing room.

He told the band very calmly "If you're not on the stage in 30 minutes, I'm coming back in here and I'm shooting every one of you."

Our singer, Frank said, "What did you do Wayne."

Wayne said, "They were playing like hell in 30 minutes."
You meet a lot of people on the road, bands trying to make it and you never know who or how, or if, you might get a break.

For example, our band, Rubber Band, was on the beach circuit in 1978, just before I quit playing.

In South Carolina that circuit included Myrtle Beach (The Bowery) but it also included places like Thunderbird Motel lounges.

Our manager got a call from a lady who ran this Thunderbird club in Florence South Carolina.

She was desperate for a band for the upcoming weekend because she had just fired her band, Wildcountry.

She said they attracted a rowdy crowd.

He called us and we showed up at the club for a one week gig.

Another lady, Mrs. Herndon actually ran the club and she was the nicest person.

She knew we didn't have much money so she got us these coupons that we could use to get free food at another nearby club and she would take us there after our shows, sort of looking after us like a Mother.

Her son was a drummer looking for a band so she was sympathetic to bands.
Mrs. Herndon's son, Mark, was at the club several nights.

He would ask us if he could sit in and play with us, as musicians do.

One night we let him sit in and we did several rock & roll numbers.

He was pretty good with a nice strong beat.

We finished the gig and left and almost immediately after that I went back to school.

But as I was getting out of the music business Mark Herndon was just getting started.

His Mother found out that Wildcountry was looking for a new drummer and she called on Mark's behalf.

He joined their band and shortly thereafter the band changed it's name to Alabama, and within a year they had records in the charts and soon became one of the biggest names in Country music, and the first band to add rock and roll sound to country hits, mainly because of Mark's drumming.
11.
Harvey:
I have not seen the cover of the CD or the graphics. But was/is there a concept to the artwork?
Frank:
Interestingly, I had outlined a concept of a pig with a cape flying out of a thunder cloud with lighting bolts in the air and approached a commercial artist to develop it. Then out of the blue, with no prior discussion, my brother-in-law emailed me a logo that was almost exactly what I had envisioned. He had heard the name Thunder Pigs, thought is was cool, and decided to create a logo. He has great artistic talent and has used it in many other circumstances.
Larry:
The cover is

– a silhouette of a winged swine with a lightning bolt and cape, which goes in the same direction as our music – simple and direct songs about life, with our tongues planted firmly in our cheeks, a little bit of anger or bitterness showing (if you glance at the right time), and unmitigated hopefulness about love and life.

When you open up the CD there is a collage that says it all about the band – comrades on a mission of pleasure.

And the title of the album says it all – 1.
Dave:
Simplicity and directness.
12.
Harvey:
This is a very essential question. The band has people in it over age 50 and age 60 releasing a debut album of original songs. Not an oldies act or a cover band. This is sort of rare in today's aegist media, where no one is encouraged to create or try after age 30 or 40, especially at most record labels. I contend everyone gets better with age. I got my first book deal at age 51. Can you all collectively comment about making music, or collaborating on music after age 50 and 60. Age should not even be a factor or mentioned, but I think it is important to dialog on with respect to your debut album. I really do not think there are many people your age doing debut albums, rehearsing and getting ready for album two. Am I wrong in even discussing this or addressing this? I think it is a factor that makes the TP's unique. I would think a supportive wife and kids who understand your commitment to music is a factor that helps, and no one is starving. But is it really important to get the music out and just let this situation happen? I know this is not a hobby. For anyone.
Frank:
My wife has always supported my music and she even sang in a band with me. Although I will admit when we first got married my playing in a band three nights a week and both of us working all day put a strain on us. I've been looking forward to "retirement" for several years so I could pursue music. There seems to have been a resurgence of 50's 60's and 70's bands going on tour. When we were young we didn't have the opportunity see such greats as Paul McCartney, The Rolling Stones, Tom Petty, and even Ringo Starr. But in recent years we could afford it and and they were coming to Atlanta and Charlotte which made it easy. Seeing these greats perform was reinvigorating and motivating to me. I am the eternal optimist; I actually believe we can make new music with traces of the great artists influences that people will enjoy. After all look at Chuck Berry and Little Richard and how they continue to influence new music. Can you imagine if any of the above artists had thought all the great music is already written and decided not to give us their contribution? Can you imagine a world with no new music? I hope other folks in our age range will step up and share their talent, let's shower the people.
Larry:
We are so lucky.

We get to speak and play from a lifetime of experiences.

We can write songs about love, divorce, children, cancer, death, mortality, work, careers, selling out and standing up for principles.

We can pine for the good old days and ask the timeless question, where did the time go?

Overall, we know the value of life, friendship and love.

We can still be 17 without having to live it everyday.

We know the value of a minute and how life can change in a second.

My personal dream is for the TPs to write a rock opera on life, from the perspective of someone who is approaching the end of life.

I think it would touch a lot of people, if done right.
Dave:
You touch on some important themes in this question Harvey.

I've been a musician my entire life, but when you reach a certain age you ask yourself, what haven't I done that I'd really like to do?

Some people call it a "mid-life crisis", I'd call it a mid-life reorientation.

Your children are grown and have lives of their own, and you've achieved a certain degree of career success and financial stability.

You are actually in a position to make your creative aspirations a reality.

But I think what makes the Thunder Pigs unique is that we actually found kindred spirits our own age to work with.

As I said earlier, I'm really happiest in a band situation.

I have worked on recording some of my own stuff solo, and frankly, it's just not all that satisfying.

And I certainly couldn't imagine being a good fit in a band of much younger people.

Their musical tastes and personal inclinations just wouldn't be a good fit for me.

The Thunder Pigs is a rare situation, four older guys who share a love of creating music and a shared musical vocabulary.

On top of that we get along very well at a personal level.

We want to make our own statement in our own way.

I think time and experience have given us quite a few things to say as a band.

And the stability that our work lives has provided gives us the ability to act with integrity as we do it.

There is food on the table.

We don't have to sell out to eat.

I guess Abraham Maslow would call it self-actualization with a groove.
Harvey:
And for Mike, it might be a tad different, because he was on a live circuit, before going (back) to school. Mike perhaps your take is different as you returned to music after a self-imposed detour. And Mike, please comment on living in California, Bay area for many years. Can you compare and contrast the Ca and S. Carolina worlds, even if it's subject specific to people, media, radio stations you heard.
Mike:
I've always been fascinated by recording.

That's really my main interest, even more than playing.

The first thing I remember buying with my own money as a little kid was a Radio Shack personal reel-to-reel tape recorder.

I used it to record birds outside my bedroom window and I would edit those tapes using a razor blade and scotch tape.

Much later I figured out how to plug a guitar into it and use it as an amplifier.

It gave me a distorted sound just like Martin Barre of Jethro Tull, on the song "Aqualung."

I started playing guitar so I could play along with Beatles records.

Eventually I made it out onto the road playing full-time but it was always recording I wanted to do.

I left the road to pursue a career in academics because I got fed up with bands and musicians and managers.

And science has always been my first love anyway.

But I never stopped playing and recording music and I always knew I would go back to it one day.

When I met Frank, Larry and last Spring I knew the time was right and the band was right.

I'm at a point in my academic career where I can't really go any further.

I've done pretty much everything I set out to do.

So the time seems right, to get back into music in a big way and I'm starting that process with The Pigs.
If you think that Northern California and South Carolina are at opposite ends of the universe, you might be surprised.

I lived in the Livermore Valley, which includes Pleasanton and Walnut Creek, just across the Bay from San Francisco.

This area has its fair share of yuppies and old hippies, and it is surrounded by Universities and academic communities.

But, the area also has a surprising number of cowboys and farmers and a significant fraction of the population is conservative.

In this way it is similar to Columbia, South Carolina where we also have a high fraction of academics mixed in with a very conservative population.
On the other hand musically the two areas are worlds apart.

In the Bay area there are a tremendous number of great radio stations, playing every kind of music imaginable, rock, pop, reggae, many Spanish-speaking stations, country, blue-grass, classical, indie, and on and on.

I could even pick up 5-6 University radio stations at the same time.

When I moved to Columbia, SC one of the first things I noticed was the lack of good rock and pop stations, and the over-abundance of country music stations.

There were literally only 3 rock stations on the radio in 1993, classic rock and new rock, and these three repeated the same songs over and over every 15 minutes.

It's still not much better and is why I only listen to Satellite radio (thank you Steven Van Zant, Andrew Oldham and "The Underground Garage.").
One advantage of being an original band in South Carolina is less competition, compared to California.

It's easier to find gigs and find an audience.

The bands I knew in Livermore were playing for next to nothing.

There are also several high-quality recording studios like The Jam Room where you can lay down quality tracks in a stress-free atmosphere.

Columbia really is a god place to start a band.
Harvey:
"Did you even get a piece of equipment in the Bay area or a guitar you still use?"
Mike:
"In fact I bought a guitar in San Francisco that totally changed my playing style.

Before living in the Bay area I played Gibson guitars, either ES-335 (think Alvin Lee) or Les Paul models.

Gibson's have a certain powerful sound, very precise and well constructed, and I played them with heavy distortion.

Around 1990 I bought a Fender Stratocaster from a guy in San Francisco for $185, including the case.

It was a Japanese model, a beautiful Robin's egg blue color and it sounded amazing and never went out of tune.

That guitar sounded so good, clear and clean with that "strat" sound that I immersed myself in it and didn't play my Gibson's again for almost 10 years, maybe more.

My playing style changed from a heavy distortion, single-note lead style to a cleaner style using more chord based scales and double notes.

I have used that guitar almost exclusively ever since, though for the CD I did use the Gibson ES-335 for slide.

I am definitely a Fender player now and only a couple of weeks ago I finally bought another stratocaster, the 50th Anniversary edition.

There is nothing like a Fender Strat, it's so different from a Gibson in many ways.

Whereas the Gibson's are extremely well constructed the Strat is more a working-man's guitar.

I worry about damaging my Gibson's but I never worry about damaging the Strat.

It's just a pice of wood with a neck bolted on but the sound is so organic and each guitar has lots of character.

For example when you bend a string hard on the Strat the pitch of all the other strings changes, just slightly and I love that about the guitar.

You either love that or hate it.

A Gibson would never do that and that's great but that pitch change with the strat just gives it so much character.

Part II - The Thunder Pigs and Harvey Kubernik Investigate the "Porcine Conspiracy"
The Thunder Pigs "squealed with delight" to once again be the subject of an interview by music journalist Harvey Kubernik in July 2014, following the release of the second TP CD, "The Porcine Conspiracy". Mr. Kubernik, a native of Los Angeles, California, has been a noted music journalist for over forty years. A former West Coast A&R director for MCA Records, Kubernik is the author of five books, including
This Is Rebel Music
,
A Perfect Haze: The Illustrated History of the Monterey International Pop Festival
(co-authored by Kenneth Kubernik), and
Canyon of Dreams: The Magic and the Music of Laurel Canyon
.
His latest book Turn Up the Radio!: : Rock, Pop, and Roll in Los Angeles 1956-1972 and is his biggest hit yet receiving rave reviews. This book has been placed in the Rock and Roll Hall of Fame's Rock Library. Kubernik's writings on popular music have been published nationally and internationally in the
Los Angeles Times
,
MOJO
,
Goldmine
,
Musician
,
Melody Maker
,
Treats!
, the
Los Angeles Free Press
,
Crawdaddy!
,
Record Collector News
, and many other periodicals and online outlets. His work has also been placed in several book anthologies, including
The Rolling Stone Book of the Beats
and
Drinking with Bukowski
. Kubernik has penned liner notes for a dozen albums by a diverse group of recording artists, most notably Elvis Presley, Allen Ginsberg, Carole King, and the Ramones.
1. Harvey: Did the band have extensive discussions in pre-production about the direction of this endeavor?
Larry: Yes – we wanted to build on the lessons learned from our first album and branch out - both musically and in the content of our lyrics. We also had a number of techniques we were interested in trying out – be it the addition of layers of instruments (like strings) or experimenting with different approaches to vocal harmonies.
Mike: We wanted to improve on the audio of our first CD by using better mics and better recording techniques all around. We learned a lot about recording drums. Frank and I also had a lot of fun playing off each other guitar parts. We couldn't do that on TP I because I joined the band so late in the process. It was also fun for me being able to take a song-writing role and do a little singing. I also wanted more of a variety of guitar sounds on this CD so we used a lot of acoustic and 12-string guitar as well as slide.
Frank: As Mike said, the first CD was almost completed when Mike joined the band, He was able to create superb leads, rhythms and harmonies that truly enhanced what we had. For the Porcine Conspiracy we were all in it from the start. A big part of our pre-production is selecting songs. Everyone writes songs and so we play them for each other and let the other members make suggestions and reach consensus on the structure and everyone's part. We also play them to compete for a place on the CD. So we consider content and variety, and basically how good we feel about a song. Any song not selected for the CD is automatically up for consideration for the next CD. So, in a nice way a song is never rejected it's just deferred until it is considered ready to go on a CD. Once we narrow the list we really bore into the parts and try to improve any aspect of the song….we might change some lyrics, even change the style, add or remove instruments or effects, and always consider the emotion and feel we're trying to get to.
Dave: There were definitely some "lessons learned" from the first CD in terms of our approach to recording. There are already some lessons learned from this one too. As far as songs are concerned, there was a couple (Dying Slowly, Hot Rod Lucy) that we were pretty certain about going in. Lucy had already become part of our live set. There were some others that had strong personal connections for the composer that the band wanted to see brought to fruition. But Frank pretty much sums up the process from there: survival of the fittest.
2. Harvey: Tell me about the studio used.
Larry:
Blue Hare Studio is located in a spacious basement at Frank's house. This is particularly hard on Frank as he has to keep the refrigerator stuffed with sodas, water and beer at all times.
Mike: The room is long with a low ceiling but sounds surprisingly good. Since we are the primary users of the space, all the instruments and mics were set up permanently and never had to be moved. So we could just show up, plug in and start recording. We recorded all tracks at Blue Hare using Frank's Pro Tools system, then I would mix the tracks in my home studio using Cubase. Mastering was done primarily at Chris Graham's mastering studio though Darlene and We Shot for the Moon were later remastered at Audio Bay Mastering.
Frank: My favorite spot in the studio is what we call Larry's shack…we built a frame and covered it with carpet and put Larry and his drums in it to get better isolation and control of the drums' sound. When we first created the drum shack I would laugh when I'd look and see Larry peeking out. The Blue Hare Studio really is the best pace I've had to practice and record, in large part due to the convenience of not having to move any equipment, and the very manageable acoustics of the room. When I think back many years on other places we've practiced in it blows my mind (can you hear me laughing)….an underground bomb shelter, a dank dingy basement, a utility shed with no heat where we may as well have sat on each others' shoulders, a garage with a concrete floor that bounced sound right up your pant legs. I love the Blue Hare….
Dave: Leave it to guitarists to omit the essential bass and string tracks recorded in my closet studio using Reaper and a Focusrite Scarlett. Glory hogs. ;)
3. Harvey: Wearing the engineer cap(s), what have the sonic team, (Frank, Mike, Dave) learned about recording on the new disc? From the preliminary mixed to what was pressed?
Mike: Little things matter in the studio. Frank invested some time and money developing a good monitoring system so we could hear better while recording. And the band spent a lot of time recording dozens of demos of each song just to get the recorded sound the way we wanted. TP I had great songs but on the new CD we wanted more dynamics in the drums sounds and more clarity in the vocals. The vocals on TP I were a bit dark. For the new CD we fixed this by using higher quality condenser mics and spending a lot of time with drum and mic placement. We also bought a really good stereo preamp for the drum overhead mics, an Apogee Duet. Between these two things it made a huge difference in the quality of our drum tracks. For vocals we bought a really good condenser mic, a Dave Pearlman TM-1. That mic is phenomenal and it totally changed the sound of our vocals. We used the Apogee preamp for vocals too and the difference in sound quality between the two CDs is very noticeable. For TP I we used a local recording studio to master the mixes. On PC we went to a professional mastering studio and this also improved the overall sound of the album.
Frank: I learned how much I would need to learn to be an engineer. I prefer to write and perform versus dealing with the technology, so I am the student of recording in the band, not the leader. In addition to what Mike said I would emphasize how much more sophisticated the recordings were especially for the drums. We spent a lot of time studying and experimenting with mic placement and considering the room acoustics. When I first set up the Blue Hare studio I had not thought of us actually recording our tracks for final mixing and mastering, but we have evolved through much research by Mike and Dave. My major improvement is learning how to get very clean tracks through careful input settings and microphone placement. I was pleased with the progress we made on the new CD, the excellent mixing by Mike and the superb mastering.
Dave: I've got to echo Mike, especially about the mics, mic placement, and preamps.
4. Harvey: Why the album title?
Larry: It was to add an air of "mystery" to the album, along with keeping our tongues planted firmly in our cheeks. The shock of completing our first album was so great we had no words left to describe it – which is why it got a number. We were much more relaxed for this album and had fun picking the title. Of course we had to stay with the "pig" theme.
Dave: The idea had been floating around since the first CD.
Frank: Early on I had a vision of a Sherlock Holmes-esque pig for the cover (I'm a Holmes aficionado). I drew a sketch that sat around for a while and later showed it to the band when we were brainstorming album names. I think it was Larry who came up with the Porcine Conspiracy and my sketch idea got noticed. After that Larry searched for the artist and artwork we needed. Now everybody asks me….What does "porcine" mean?
5. Harvey: Talk about the front cover design and Bill MacNeil.
Larry:
Well, once we had the album title we needed artwork that expressed its essence. After examining hundreds of "detective-related" pig images on the web, we stumbled upon the "pig with a pipe" at an online magazine's Photoshop contest. They put us in touch with the artist – who turned out to be the very talented Bill MacNeil, who has been a graphic artist for NBC for over 25 years. He is best known for the Tonight Show and you can see his art at billmacneilgraphicartist.com. Bill is also a very talented musician. So we were able to work closely with him on the design of the cover and CD label. Bill always came up with much better ideas than us and we look forward to collaborating with him in the future. You may notice that while the first CD label is like the old 45rpm records, the Porcine CD is like an old 33 &1/3 center of an album…Bill's idea.
6. Harvey: Can the songwriters offer some things about their individual songs?
Larry:
"
Mountain" is about a "unique" experience that happens, to perfection, once or twice in your life. It's about a clothes-on-the-floor, time- limited romp with someone out of your daydreams you'll never see again. It's not a traditional "love" song by a long shot – but more of a "lust" song with a Harry Chapin-like ending. Often, people will ask if the story in the song "really happened?" In this case, let's just say it happens to everyone in some fashion or form.
Mike: I wrote 4 songs for the album. Most of my songs are biographical. "We Shot for the Moon" is mostly about my family's experiences in the Vietnam War and WW II. I set it in the context of the Apollo moonlanding program because while some were fighting, I was in school following the space program. "Darlene" is a word-for-word accurate account of a singer who fronted a band I was in, called Rubber band, many years ago. "Outta' Luck" is just a blues song, no big story there—just a fun song to play. "Lazy/Hot Rod Lucy" started off as a completely different song called "Charlene". The band kept making fun of my songs because the titles all ended in "ene." The song lyrics didn't quite work so Frank rewrote the lyrics and turned it into a great song. Adding the "Lazy" intro just sort of happened spontaneously because we are all big Deep Purple fans and love that song.
Frank: The most interesting and mysterious song for me is "Real". It came to me in a dream and I woke up at 3 AM and wrote a sentence on my note pad. The next day when I looked at the pad I didn't even know what it was, but as I read it the dream came back to me. Get this…in the dream, John Lennon and I were leaving a recording studio in London. It was dusk with a hazy dampness in the air. He was wearing a long black coat and, as we parted, him to the left and me to the right, he said "You know Frank, there's too much plastic in the world, you've got to be real to be yourself"…then he disappeared into the foggy night…that day I wrote the song and the next day the lead, it all just flowed as if I was guided by….whoo - spooky. I think another song "Down and Out Girl" moves me. For many years I've carried the image of a woman I saw who was living under a bridge here in Columbia. It was a cold day and the only clothing she seemed to have was an army blanket with a hole in it for her head to go through. I just felt that sense of hopelessness that some people must have when they've not had someone to guide them and care for them. So I am hoping this song will help open our minds and hearts to helping others.
Dave: "Won't Fade Away" came all at once one gray weekend morning. "I saw a ghost this morning" popped into my head and the song pretty much wrote itself. By early afternoon I had cut a demo to send to the band. They liked it, and it became one of the earlier songs we tracked.
Frank: The song lyrics for "Everytime" tell it all...the idea is when someone you really care about walks out the door, you wonder and worry about whether they're coming back. It is just a universal situation that everyone has presumably experienced. However, while it may be serious in that sense, I frame it against an opposite music sound... some happy music with that potentially sad thought to hopefully make it more interesting. Actually the same technique I used for "Dark and Blue" on our first CD. The band always has input and freedom to help our songs develop and members came up with the idea of ramping up the happiness side with some 60's styled background vocals. Then, as we were rehearsing one night Dave just yelled out some intro words that we all loved, since the recorder was running we used that as the "opening lick" for the song. I continue to be very pleased with how the Pigs help make every song better "Everytime".
7. Harvey: What about album selection sequencing. Any sort of concept in terms or song order?
Larry:
We batted lists around for weeks and finally decided on the order, based on exhaustion from staring at all the options and listening to the flow. But we all knew that "Everytime" was gonna be the opener because it grabs you. Too bad we didn't write it in the 60's – maybe we could have been on the Ed Sullivan Show! Seriously, we want there to be a certain flow to the album, just like in the old vinyl days and hope we took you on a good ride.
8. Harvey: I was made aware of the occasional charity shows you have played and raised funds. How did this begin? Any shows planned for summer?
Frank:
Each band member has their own charities and causes and we try to support them with our musical contributions. We've performed to help the Leukemia and Lymphoma Society and released a single to help raise money and awareness of the needs of tornado victims. In the case of the tornado idea, Mike's hometown was hit hard by a tornado and we learned firsthand about the devastation these horrific natural events can cause. Currently we're discussing a fundraiser with an environmental group that likes our song "Bumble Bees".
We are usually approached by fans, friends and family and generally do not charge for those appearances (or try to hold it to a minimum). If you live in a community it's only fair that you give back to it in any way that makes a difference. We do try to stay away from candidate or party specific "political" benefits. We have very strong political and social views but that resides in our music. This summer has been unique in that our drummer, Larry, was injured in a car accident and has been in a cast (broken thumb that needed reparative surgery) all summer. But – he is getting it off soon and he can start practicing in earnest. Actually, he practices now but can only hold one stick. That leads to a lot of missed drum rolls!!!
9. Harvey: In your live gigs do you cover songs in addition to your original repertoire?
Larry:
We decided from day one that we had all done way too many covers in our musical careers
.
We've all enjoyed playing the hits of the great artists of our time. But, we have collectively done "Satisfaction" or "Mustang Sally" about as many time as there are bricks in the Great Pyramid!!! Actually, the great thing about originals is the flow of the creative juices. After you make the "originals only" decision, doing covers is more like working on the assembly line. Yet, we acknowledge the extraordinary music and influences we've experienced in our lifetimes are fully appreciative of that experience.
Frank: We've never done covers in our live gigs. We have sufficient music that we've written and we make it our goal to entertain the audience with a variety of styles. A number of songs we perform live have not yet made it to a CD, because we select only 12 or so per album. So we've got much more music to release and we write constantly. This whole band experience just has us totally motivated. We're pumped… can you feel it?
Dave: We are consciously NOT a cover band. We've all done that before, and it's not what we choose to do now.
10. Harvey: Now that you have started doing some national interviews, the recent one with Larry Battson and had spins on Satellite Radio, the Underground Garage, as well as traditional radio, Rodney on The ROQ, what is it like seeing this album start to garner some airplay?
Larry:
One word – "WOW" - it is truly a pleasure to see someone enjoy the music and even better to hear professionals and your peers react in a positive way. It's the reward for the hard work. We appreciate both the kind words and constructive critiques!
Mike: We live to hear our music played and listened to by other people. Every time I hear one of our songs on the radio it just blows me away….and makes it all worth while. Having Rodney Bingenheim play one of our songs on his show was a huge honor. He's such a huge star, just knowing he listened to one of our songs inspires me to record more.
Frank: I'll say "ditto" to what the other guys said. It is a truly amazing experience to have such renowned leading professionals in the industry give the Thunder Pigs the slightest nod. Playing our music is the ultimate acknowledgement and we fully appreciate their willingness to share new artists with their fans in this crowded field with so much talent.
Dave: It's very gratifying