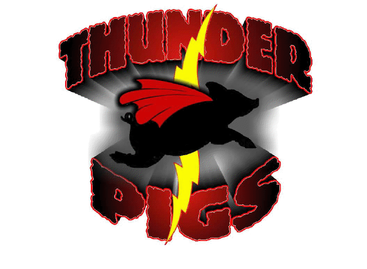 Welcome
to the home of
The Thunder Pigs
tm
BIG PIG NEWS!!!!!! The song "Everytime", from our second album, The Porcine Conspiracy," is featured on the newly released album "Little Steven's Underground Garage Presents - Goldie's Garage - Best Unsigned Bands - Volume I."Please go to the Merchandise page for more information!! And check out our interview with noted rock journalist Harvey Kubernik about it (Part 2)!
Please make
yourself
at home. If you look around you will find interviews, videos, pix, merchandise, and our event schedule. For the most up to the minute information, follow us on facebook, (search The Thunder Pigs) at
https://www.facebook.com/pages/The-Thunder-Pigs/212590358816000
.
Did you hear our song Everytime on the LA FM station KROQ? See Upcoming Events for details.

Please stay tuned to TheThunderPigs.com for future developments, and thanks for your interest!
Send us some e-mail at - ThunderPigs@TheThunderPigs.com
---