Who we are...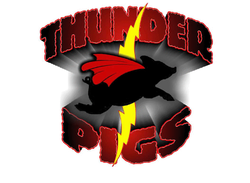 The Thunder Pigs is a four-piece band from Columbia, SC that plays all-original music with a vibe that is reminiscent of Neil Young, The Stones, The Byrds, and Tom Petty, and with a strong melodic content which comes from listening to The Beatles, a huge influence on the group. The music is rooted in guitar sounds that echo Neil Young, Duane Allman and Hendrix, with underlying keyboards influenced by Ray Manzarek of The Doors, Goldy McJohn of Steppenwolf and Gregg Allman. The band's songs offer a mature look at a world that includes environmental issues, but with a sense of humor, and rock anthems about life's wrong turns and loves lost. The original band, formed in Fall 2010, originally consisted of Frank Fusco (singer, songwriter, guitarist), Dave Patterson (bassist and singer), and Larry Fernandez (drummer and singer). Mike Angel (lead guitarist, keyboardist and singer) joined the trio in May 2011. Mike left the band in 2013 and has been replaced by Rick Carnell (lead guitarist and singer). Though all members of the band write songs, most songs on both CDs are written by Frank Fusco.
The group is unique as the band's members are not typical for an all-original rock band. Patterson has a Ph.D. degree, in political science, and speaks enthusiastically about the connections between music, math and science. Singer/songwriter/guitarist Frank Fusco is the former Executive Director of the SC State Budget Control Board and led a varied career in state government prior to his retirement. Drummer Larry Fernandez is a retired State health care manager and currently is a scuba diving instructor, underwater photographer and an avid underwater fossil hunter. Bass player Dave Patterson manages the SC Budget and Control Board's Integrated Data Warehouse and serves as the state's Health Information Technology Coordinator. The band's newest member, Rick Carnell, is a lead engineer and safety compliance officer with a US major manufacturer.
The groups shared passion is creating and recording original music, a path to which they are seriously committed. "We are not an oldies or classic rock group," says band members. "We don't do covers, we have no interest in re-living the past." Is it unusual for a group of 50 to 60-something musicians to start a music career and release multiple albums? "We take our music career seriously." Why can't original rock and roll be created after age 50? To quote music historian and author Harvey Kubernik, "The U.S. daily and weekly music print media in general have an ageist mentality reporting on pop and rock musicians playing all original tunes after age 40 and 50 doing debut albums." To quote former band member Mike Angel, "In science, age is equated with wisdom. Why isn't the same thing true for music? I play much better now than I did in my 20s and 30s and this is true for most musicians."
The bands first CD, "Thunder Pigs I", is a collection of 13 original songs, most firmly rooted in rock, "but with a good pop sense," according to Kubernik. Although none of the songs on this first CD deal specifically with science and math, the group is very much aware of the connections of math and science to music. "It's no coincidence that a large fraction of the great mathematicians and physicists of our time are also competent musicians." "Music is math," says Dave. "The ancient Greeks put music on a par with science and math." Success in the mathematical and physical sciences requires creativity as well as precision, exactly the same skills as are required of a successful musician. And a successful band requires organization, a keen business sense, and leadership, qualities that Fusco and Fernandez bring to play. "With our backgrounds it is no more unusual to start a band and make and record original music than to start a new research project," says Fernandez. He adds, "I equate the creative music process (both writing and performing) with my love for diving. Music, like the ocean, brings a natural emotional response that is best appreciated by total immersion and appreciation of something that is both complex and fundamental to life." The second CD, "The Porcine Conspiracy", enabled the group to branch out and expand its musical roots, from the pop anthem "Everytime" to the punk stylings of "I Only Wanna Be With You."
James Cushing, Prof. of English and Literature, Cal Poly San Luis Obispo, KCPR-FM DJ, host of '
Bob Dylan's Lunch
,' and on-air radio host for over 30 years, recently said the following regarding ageism in the music industry, "Demographically speaking, the USA is getting older. People are living longer, working longer, playing longer. Helen Mirren's 62-yr-old bikini body is slurped at all over the world. I believe we will see many more cultural things like The Thunder Pigs as ideas of youth and age change. In 1967, when I was 13, I paid my 25 cents for the SF Oracle issue No.7, which featured a symposium between Ginsberg, Watts, Snyder and Leary. I remember devouring their words and being most struck by the thought that these four men were grown adults who were living/thinking/being in a way radically different from my father's brand of adulthood. The words were inspiring but even more inspiring was they, these guys, all Older and Wiser than I was, represented a new (to me) ideal of adult living. They were evidence that the progression from youth to adulthood does not always involve loss, compromise, or betrayal; a conscious, art-and-spirit-centered life was possible, because these guys were living one. Will some 13 year old today hear The Thunder Pigs and have a similar experience? I hope so."
Both Thunder Pigs CDs can be purchased or downloaded on-line at Amazon.com, iTunes, CD Baby, CDDB and Allmusic.com, or directly from the band's web site (
www.thethunderpigs.com
), or a hard copy can be purchased by sending a request to the bands mailing address. The next Thunder Pigs album will arrive in mid 2015, as the band members are prolific writers and have a backlog of new songs already in the recording pipeline. Plans are underway to provide proceeds from Thunder Pigs' gigs and CDs to help area charity organizations such as the Humane Society and the United Way. For further information about the band or to inquire about bookings, e-mail
ThunderPigs@thethunderpigs.com
.
---